History of the Belmont Stakes

---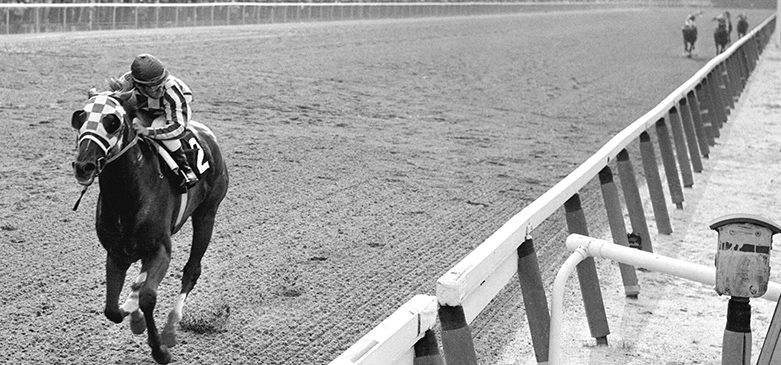 The first Belmont in the United States was not the famous stakes race or even the man for whom it is named. Rather, the first Belmont was a race horse that arrived in California in 1853 from his breeding grounds of Franklin, Ohio. The Belmont Stakes, however, are named after August Belmont, a financier who made quite a name and fortune for himself in New York politics and society. Obviously, Mr. Belmont was also quite involved in horse racing, and his imprint is even intertwined within the history of the Kentucky Derby.
One thing the Belmont does have over the Derby is that it is the oldest of the three Triple Crown events. The Belmont predates the Preakness by six years, the Kentucky Derby by eight. The first running of the Belmont Stakes was in 1867 at Jerome Park, on, believe it or not, a Thursday. At a mile and five furlongs, the conditions included an entry fee of $200, half forfeit with $1,500 added. Furthermore, not only is the Belmont the oldest Triple Crown race, but it is the fourth oldest race overall in North America. The Phoenix Stakes, now run in the fall at Keeneland as the Phoenix Breeders' Cup, was first run in 1831. The Queen's Plate in Canada made its debut in 1860, while the Travers in Saratoga opened in 1864. However, since there were gaps in sequence for the Travers, the Belmont is third only to the Phoenix and Queen's Plate in total runnings.
The Belmont Stakes was run at Jerome Park from 1867 to 1889; at Morris Park from 1890 to 1904; at Aqueduct from 1963 to 1967. Not run in 1911 and 1912. Run at a mile and five furlongs from 1867 to 1873; a mile and a quarter in 1890, 1891, 1892, 1895, 1904 and 1905; a mile and a furlong in 1893 and 1894; a mile and three furlongs from 1896 to 1903 and from 1906 to 1925. No time taken in 1907 and 1908. Run as a Handicap Stakes in 1895 and in 1913. The value for the 1987, 1988 and 1992 winners includes the $1,000,000 Triple Crown point system bonus.
Secretariat's 31-length victory in the 1973 Belmont Stakes established the world record for a mile and a half on dirt at 2:24 and will forever be engraved into our memories. With his win in the Belmont, he became the ninth horse to capture the Triple Crown. Seattle Slew took the title in 1977 with Jean Cruguet.
Five years later Affirmed trained by Laz Barrera, swept the Triple Crown races. His duel with Alydar in the Belmont Stakes earned him the titled of the 11th Triple Crown Winner. This was the start of the 37-year Triple Crown drought. The American racing world would wait anxiously each year for the start of the Triple Crown series in hopes that a savior of the dry spell would emerge.
Since 1978 many horses have won the Kentucky Derby and Preakness (including Silver Charm in 1997, Real Quiet in 1998, Charismatic in 1999, War Emblem in 2002, Funny Cide in 2003, Smarty Jones in 2004, I'll have Another in 2012 and California Chrome in 2014) and were denied racing immortality in the Belmont Stakes.
Then in 2015, along came American Pharoah. In front of a capped crowd of 90,000, the field of eight loaded into the gate. Everyone from the fans to staff to the Zayat family held their breath as the gates flew open. American Pharoah broke and went right to the lead at the first turn. Coming into the home stretch the crowd increasingly grew louder and louder cheering on the soon to be 12th Triple Crown Champion. Victor Espinoza opened him up as he made his "run for glory." He glided across the finish line at a 5 ½ length victory and with a time of 2:26.65. It was the fastest Belmont stakes since Point Given in 2001 and the second fastest to Triple Crown winner, Secretariat. The crowed erupted in euphoria; the 37-year wait was finally over. Tears, laughing, and cheering amongst a most grateful Belmont crowd will be remembered for years to come.
Blocked behind a wall of horses with a quarter-mile to run, WinStar Farm and Bobby Flay's Creator weaved his way through traffic and used the length of the stretch to reel in Destin and win the 2016 Belmont Stakes. The margin of victory matched the smallest in Belmont history reached three times prior, most recently in 1998 when Victory Gallop spoiled Real Quiet's bid at the Triple Crown. Victory Gallop was trained by Elliott Walden, now president, CEO, and racing manager of WinStar Farm.

With a breathtaking, wire-to-wire tour de force under Hall of Fame jockey Mike Smith, undefeated Justify became racing's 13th Triple Crown winner on June 9, 2018 at Belmont Park, sweeping to a 1 ¾-length victory over Gronkowski in the 150th running of the Grade 1, $1.5 million Belmont Stakes presented by NYRA Bets. The victory over Belmont Park's sweeping 1 ½-mile oval was the sixth straight for Justify, who joined Seattle Slew - also a wire-to-wire Belmont winner in 1977 - as the only undefeated winners of the Triple Crown. All six of the rangy chestnut colt's wins came in 2018, beginning with a maiden victory on February 18 at Santa Anita Park and culminating just shy of 16 weeks later in the Belmont.
---
The Belmont Stakes: A Race Unlike Any Other
By Bob Ehalt
The distance is officially listed as a mile-and-a-half. Yet for 150 years now, each one of those of 7,920 feet traveled in the Belmont Stakes presented by NYRA Bets has been more akin to the vastness of a light year in separating some of Thoroughbred Racing's most famous stars from others hoping to achieve a measure of greatness.
No other race in the United States can match the formidable challenge and grand tradition wrapped into the race synonymous with Belmont Park. Young 3-year-olds, untested at the demanding 12-furlong distance, are asked to face the best horses of their generation in a battle of speed, courage and stamina that could serve as their coronation into racing royalty or relegate them to obscurity.
It is the Belmont Stakes that unlocks the door to Triple Crown glory. Only the best Thoroughbreds have stood tall after facing the unrivaled test of a one-lap journey around picturesque Belmont Park's sweeping turns and just 13 of them had the heart of a champion, allowing them to become Triple Crown winners by adding a historic victory in the Belmont to Kentucky Derby and Preakness triumphs.
While the Kentucky Derby starts the quest and the Preakness can continue it, there is nothing else that can match the drama and electricity of June afternoons at Belmont Park with crowds of more than 90,000 turning out for a Triple Crown bid in a historic, 150-year-old race best known as "The Test of the Champion."
"When there's a Triple Crown at stake in the Belmont Stakes, it brings our sport to the very highest level and becomes the most exciting sports event arguably that there is," said trainer Todd Pletcher, the all-time leader in earnings with more than $361 million and a three-time winner of the Belmont (2007, 2013 and 2017). "It puts us right on par with the Super Bowl and the World Series. The Belmont on its own is a tremendous event and a tremendous race, but when there's a Triple Crown at stake, to me there's nothing like it."
Witnessing History
On June 9, 2018 in the 150th Belmont Stakes, the undefeated Justify became that 13th Triple Crown champion through a 1 ¾-length victory for his ownership group of WinStar Farm, China Horse Club, Starlight Racing, and Head of Plains Partners. Every seat—in a grandstand as long as the Empire State Building is tall and filled as a capacity crowd of 90,327—celebrated with a deafening roar when Justify triumphed.
The list of Triple Crown winners started with Sir Barton in 1919, whose sweep came 52 years after the race was first contested at Jerome Park in 1867 and 14 years after it found a home at Belmont Park.
Gallant Fox (1930), Omaha (1935), War Admiral (1937), Whirlaway (1941), Count Fleet (1943), Assault (1946) and Citation (1948) joined him, and more recently it was Secretariat (1973), Seattle Slew (1977), and Affirmed (1978). After another prolonged drought, American Pharoah (2015) and Justify (2018), who proved their mettle over Belmont Park's hallowed main track, etched their names among the sport's best and brightest stars.
Each gave racing something special in the Belmont Stakes.
No one may ever match Secretariat's 31-length margin of victory and world-record time of 2:24.
Seattle Slew and Justify provided a taste of perfection with their unbeaten records. Affirmed defeated his nemesis, Alydar, by a head after racing side-by-side for seven furlongs in an epic duel that many observers still regard as the sport's most intense battle between two rivals.
Doing it in the Digital Era
Zayat Stables' American Pharaoh, the first Triple Crown winner in the digital era, went viral after ending a 37-year drought and proving that a great, modern-day champion could handle the grueling challenge of the Belmont Stakes with the same flair as horses from four decades ago. Beyond them, the roster of Belmont Stakes winners, including famed stars such as the filly Rags to Riches, Point Given, Easy Goer, Riva Ridge, Arts and Letters, Damascus, Gallant Man, Nashua, Native Dancer, and Man o' War, reflects powerfully on the special talent needed to win such a prestigious race.
In an equally telling comment, the magnitude of winning the Belmont Stakes is also reflected in the way California Chrome, Smarty Jones, Sunday Silence, Alysheba, Spectacular Bid, Canonero II and Majestic Prince all found the 1,097-feet of Belmont Park's stretch to be too demanding and were thwarted in their bid for a Triple Crown and denied a spot among racing's immortals.
For them, the difference between victory and defeat was a light year, not a mile-and-a-half, in a race that has no peer in crowning champions.
Bob Ehalt has been an avid fan of Thoroughbred racing since the day in June of 1971 when he and his father walked from their Queens Village, N.Y., home to Belmont Park to see Canonero II fall short in his bid for the Triple Crown. A veteran sports writer and correspondent for Thoroughbred Racing Commentary, BloodHorse and America's Best Racing, Ehalt has twice won NYRA's Joe Hirsch Memorial Writing Contest, recognizing the best in print and internet coverage. Ehalt, who covered his first Belmont Stakes in 1985, has also won five "Top 5" awards in the Associated Press Sports Editors national writing contest and has owned Thoroughbreds since 1995.
---
Here is the hallowed ground where Man o' War left the crowd in awe, breaking the American record while being eased under the wire—and where Secretariat pounded the dirt to thundering acclaim and scored a 31-length victory in world record time, while announcer Chic Anderson famously cackled, "He is moving like a tremendous machine!"

When the equine stars align, Triple Crown winners like Secretariat, Citation, Affirmed, and American Pharoah have baked themselves into superstardom. But even Belmont's near-misses of Smarty Jones, Real Quiet, Silver Charm and California Chrome were the devastatingly thrilling events of their seasons.
---
They Called It: A Celebration of NYRA Race Callers
A salute to some of the giants of the announcer's booth, who have conveyed the magic and pageantry of racing at NYRA tracks for more than 90 years.
Bryan Field
"(He was) a joyous, jovial, verbose and vibrant man who was absolutely certain that he was the best broadcaster of horse races who ever lived. He would have resented being called an egotist. In his ebullient way, it never occurred to him that he could be wrong about anything. Usually, he wasn't."
– The New York Times on NYRA's 1930s-era race caller Bryan Field in a 1968 tribute –
Bryan Field was a sportswriter covering boxing, baseball, and track and field when The New York Times named him its turf writer in 1928. Knowing little about horse racing, he caught on quickly by taking a second job as a stablehand, arriving each dawn at the track to groom and hot-walk horses. By 1931, Field had mastered racing well enough to launch a broadcasting career—calling the races at Belmont Park and other New York tracks, and eventually broadcasting the Triple Crown, on radio and then television, through 1962.
Fred "Cappy" Capossela
"I try to avoid hysteria. My job is that of a reporter."
– Fred "Cappy" Capossela –
Legend has it that in 1991 Fred "Cappy" Capossela said to his son, "It is now post time," and died a short time later. How fitting that Capossela used the signature phrase he made famous as NYRA's head race caller for 37 years and as the "Voice of the Triple Crown" from 1950 to 1960 on CBS Television and Radio. Capossela's commanding knowledge and cadence were standards at NYRA tracks from the 1930s through his retirement 1971; so were his prodigious memory and unerring accuracy. Capossela said he never called the races by numbers, but by memorizing the colors of the silks—thousands of them each year.
Chic Anderson
"They're on the turn, and Secretariat is blazing along. The first three-quarters of a mile in 1:09 and four fifths. Secretariat is widening now! He is moving like a tremendous machine. Secretariat by 12, Secretariat by 14 lengths on the turn! Sham is dropping back. It looks like they'll catch him today, as My Gallant and Twice a Prince are both coming up to him now. But Secretariat is all alone! He's out there almost a sixteenth of a mile away from the rest of the horses! Secretariat is in a position that seems impossible to catch!"
– Chic Anderson calling the 1973 Belmont Stakes, won by Secretariat –
Charles "Chic" Anderson, the voice of NYRA from 1977 until his untimely death in 1979, was the voice of the Triple Crown and generally acknowledged as the best race caller of his time. Before joining NYRA, Anderson called races at Churchill Downs, Santa Anita and Oaklawn, among others.
Dave Johnson
"And down the stretch they come!"
– Dave Johnson –
Dave Johnson's signature call during his tenure as NYRA race caller from 1972 to 1977 was straightforward and dramatic, and is still among the most recognizable calls in sports. Johnson portrayed himself as Belmont Park's race caller in the 2007 film Ruffian.
Marshall Cassidy
"Headed into the stretch … Conquistador Cielo has complete control of this field by about five lengths. Linkage (is) on the outside, High Ascent on the inside, those two now heads apart. Gaining ground on the rail is Illuminate. On the outside, here comes Gato Del Sol. But they're far as Conquistador Cielo (has) complete control of this Belmont Stakes (and) has the field by 15 lengths, maybe 20 lengths! Gato Del Sol is second."
– Marshall Cassidy calling the stretch run of the 1982 Belmont Stakes –
Throughout the 1980s, Marshall Cassidy was the silky-smooth voice of NYRA, noted for his accuracy and even-keeled delivery. "There is a lot of emotion of what he is seeing," Cassidy once said of the typical racing guest. "He doesn't need to hear a cheerleader whooping it up for horse he hasn't bet on." Cassidy later worked as a racing steward.
Tom Durkin
"Smarty Jones enters the stretch to the roar of 120,000! But Birdstone is gonna make him earn it today! The whip is out on Smarty Jones! It's been 26 years; it's just one furlong away! Birdstone is an unsung threat! They're coming down to the finish! Can Smarty Jones hold on? Here comes Birdstone! Birdstone surges past! Birdstone wins the Belmont Stakes!"
– Tom Durkin calling the 2004 Belmont Stakes –
It was said that Tom Durkin's calling was calling races. While there isn't much debate that Durkin is among the best race callers in history, race fans prefer to discuss their favorite Durkin call.
Some cite the famous Belmont Stakes 2004 stretch run, referenced above. For others, it's the call describing Rachel Alexandra's stirring victory in the 2008 Woodward Stakes. Or it's "Arrrrrr"—the name of a horse and not a misprint. Or it could be "Yakahickamickadola" from a 1989 Durkin call at Hialeah Race Course—the pronunciation changes throughout the race—which became a YouTube hit.
According to estimates, Durkin called 80,000 races in his 43-year career, 24 of which he spent at NYRA. From 1984 to 2005, Durkin called races at the Breeders' Cup, and from 2001 for the next decade, gained further fame as the voice of the Triple Crown. Less known was his long-term commitment to the Backstretch Employees Service Team as a board member, fund raiser and regular bingo-night caller. For his career-long dedication, Durkin was awarded the Eclipse Award of Merit in 2015.
Larry Collmus
"They're into the stretch, and American Pharoah makes his run for glory as they come into the final furlong. Frosted is second. With one-eighth of a mile to go, American Pharoah's got a two-length lead. Frosted is all out at the sixteenth pole. And here it is! The 37-year wait is over! American Pharoah is finally the one! American Pharoah has won the Triple Crown!"
– Larry Collmus calling American Pharoah's 2015 Belmont Stakes victory to become the 12th Triple Crown winner –
"He's just perfect! And now he's just immortal! Justify is the 13th Triple Crown winner! Justify has done it!"
– Collmus calling Justify's 2018 Belmont Stakes victory to become the 13th Triple Crown winner –
NYRA's race caller from 2014 to 2020, Larry Collmus is the voice of the Triple Crown on NBC. An NBC Television audience of 22 million caught his epic call in the 2015 Belmont Stakes in which American Pharoah captured the first Triple Crown in 37 years.
John Imbriale
"In a sense, this is a job for which I've been preparing for years. I've been so lucky to be surrounded by incredible race callers during my career. I learned from all of them and these lessons live with me to this day."
– John Imbriale on being NYRA race caller and track announcer in January 2020 –
Horse racing does not have a sixth man award like the NBA, but if it did NYRA would have named it after John Imbriale. Starting at NYRA to 1979 when he won a New York Daily News contest which gave him the opportunity to call a race and work with the NYRA press office, Imbriale has been an invaluable jack-of-all-trades.
Imbriale became Tom Durkin's backup in 1990 and has since been part of NYRA's race-calling team at all three tracks ever since. Along the way, the Queens native took on other responsibilities at NYRA, working with Harvey Pack on the popular Inside Racing program, and also behind the scenes in a variety of roles within NYRA TV, most recently as NYRA's Director of Television Production.
"Frank Wright, Charlsie Cantey, Harvey Pack, Marshall Cassidy, Tom Durkin … I learned from all of them," said Imbriale. "Tom taught me that the race makes the call. It's not the other way around. He also told me not to listen to him calling a race because he believed it was important for a race caller to have his own style."